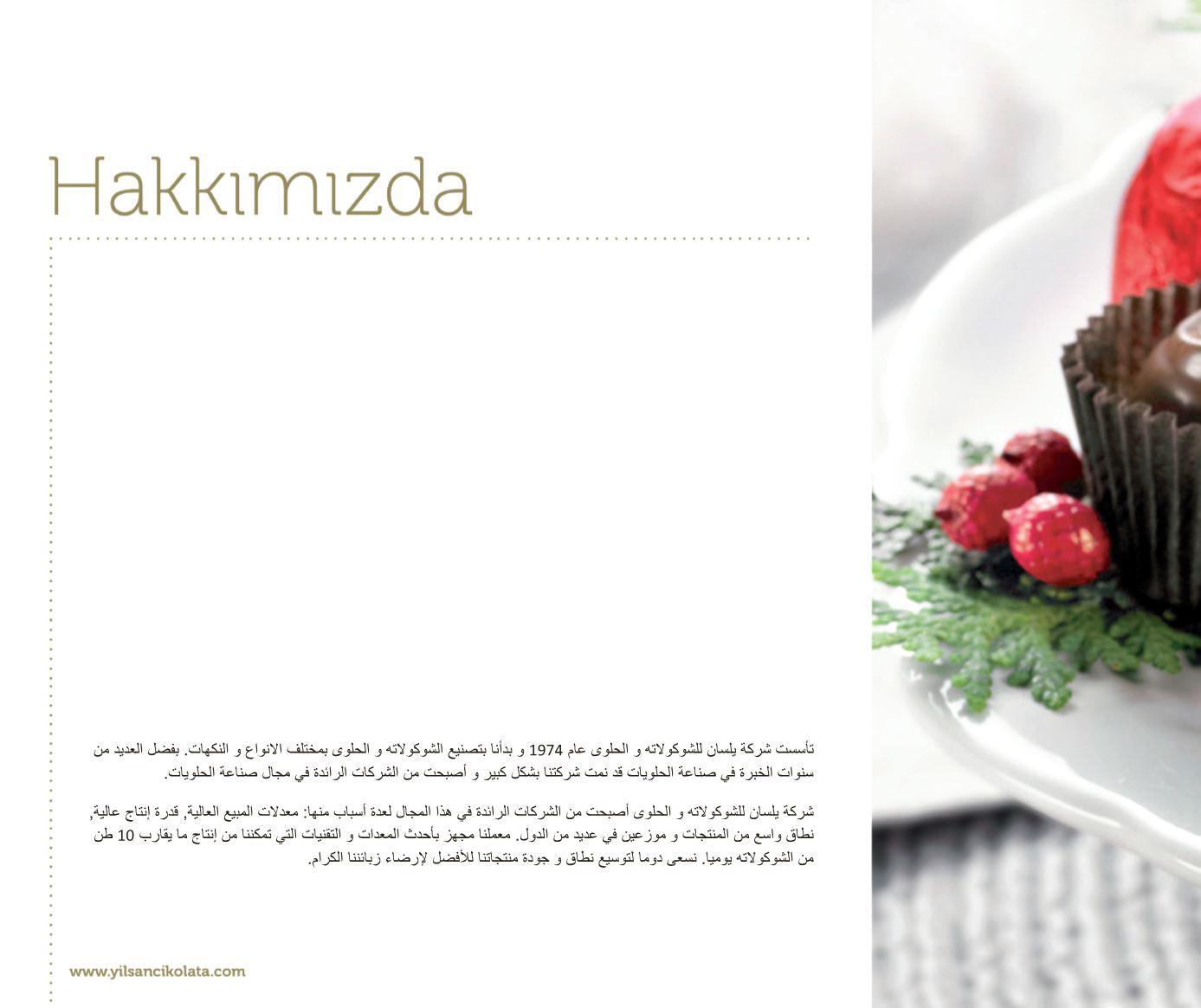 Ticari hayatına 1974 yılında başlayan firmamız kendini ve ürün yelpazesini sürekli geliştirerek
bugün şekerleme, çikolata, kakaolu fındık kreması gibi ürünler ile reyonlarda yer almaktadır.
Konya'nın eski gıda üreticilerinden olan Yılsan Çikolata Şekerleme üretim hacmi, satış gücü,
ürün çeşitliliği ve dağıtım alanı bakımından pek çok kategoride öncü bir kuruluştur.Firmamız kaliteden
hiç bir zaman ödün vermeyip hijyenik ortamda ürettiği ürünleri müşteri beğenisine sunmuştur.Gün-
lük 10 tonluk bir kapasiteye sahip olan fimamızda üretim otomatik makinalarda gerçekleştirilmektedir.
Firmamız geçmişte olguğu gibi gelecektede sürekli kalitesini artırarak ve ürün yelpazesini genişleterek
Ourcompany YILSAN CHOCOLATE & CANDY was established in 1974 and began producing different
types of confectionery. After years of experience in the confectionery production our Company has grown
greatly and became one of the leading companies in this sector. We started producing compound chocola-
tes and hazelnut cacao creams.
YILSAN CHOCOLATE & CANDY is one of the leading companies in this industry due to its high sales
rates, huge production capacity, large product range and various distribution channels in many countries. Of
course our factory is equipped with the latest technology machines which is capable of producing about 10
tons per day. We will keep improving and expanding our products and quality as we always do.